Start your weekend on a excessive be aware by making this tasty entrée from govt chef Owen McGlynn of Asheville Proper in Asheville, North Carolina.
"This is a recipe I make at home, so I was excited to introduce it to our guests at Asheville Proper. Inspired by the dropping temperature, I wanted to incorporate fall ingredients and a warm flavor profile," McGlynn tells Fox News.
SMOKED 'OVER THE TOP' SLOPPY JOES ARE CALLING YOUR NAME FOR YOUR GAME NIGHT DINNER
If you need to get fancy, throw in a pumpkin seed gremolata and fried sage. 
"In addition to the maple bourbon glaze that's used as a baste throughout the cooking process and drizzled on top when plating, I also garnish the ribs with fried sage and the pumpkin seed gremolata. The fried sage adds a warm herbaceous note," says McGlynn. "We cook the ribs to a point where the fat melts, so they're nice and tender. The combination of maple syrup, bourbon and chili flakes give the ribs a nice sweet heat, and you'll get a crunch of gremolata in each bite, which almost acts like a crust as well." 
Get the full recipe under.
LOADED POTATO BACON BOATS: TRY THE RECIPE
Maple Bourbon Ribs with Smashed Sweet Potatoes by chef Owen McGlynn of Asheville Proper
Serves 2-4  
Prep Time: 35 minutes
Cook Time: 2 hours, half-hour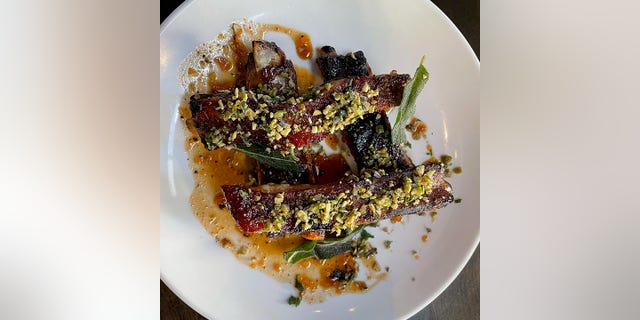 For Bourbon-Maple Glaze: 
½ cup maple syrup 
½ cup bourbon 
¼ cup ketchup 
¼ cup Dijon mustard 
¼ cup brown sugar 
6 tbsp. apple cider vinegar 
1 tbsp. garlic, minced 
1 shallot, minced 
1 tbsp. chili flakes 
1/8 tsp. cinnamon  
Instructions:
1. Combine all elements in a small saucepan, deliver to a boil.   
2. Reduce warmth to low and simmer for quarter-hour, or till it reaches a syrupy consistency. 
3. Pull from warmth and funky. 
LEMON CHICKEN SPAGHETTI WITH CREAMY ALFREDO SAUCE: TRY THE RECIPE
For Pumpkin Seed Gremolata: 
⅔ cup pumpkin seeds 
2 garlic cloves 
1 cup flat leaf parsley 
2 tbsp. lemon juice 
½ tsp. salt 
1 tsp. floor black pepper 
2 tbsp. additional virgin olive oil 
Instructions:
1. Toss pumpkin seeds in a bowl with salt and pepper.   
2. Toast in a 350°F oven for 10 minutes, or till gentle brown. 
3. Place all elements in the bowl of a meals processor, besides the olive oil. 
4. Pulse the elements, drizzle in the olive oil whereas working.   
Credits : foxnews